ROUTES BY BUGGY IN BARCELONA
Off-road by buggy in Barcelona. Two hours of adventure and nature!
If you want to test your driving 4×4 skills our buggy route in Barcelona is the activity you are looking for. Drive on off-road roads and enjoy nature. Guided buggy routes are the  perfect experience to do with friends, partner and family.

Note: to drive a buggy you must have more than 30 years old and driving license.

ROUTES BY BUGGY IN BARCELONA TO GIVE AS A GIFT
Do you want to give an original present? Fun and adrenaline guaranteed!
At a time where most of us have everything, many times we do not know what to give as a  present and it is increasingly difficult to surprise.  
Give new sensations and experiences, spend quality time with your loved ones in an outdoor activity. Our buggy route in Barcelona is the perfect opportunity to test your off road driving skills while enjoying nature.  
We cannot explain with words what it feels like to drive a buggy, but we can guarantee that 85% of our customers repeat. An experience is one of the best gifts you can ever give.  
Contact us by email if you want to give as a gift our buggy.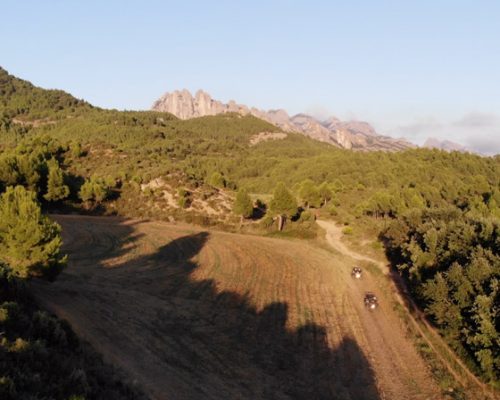 What do our clients think of the buggy routes?
46 reseñas en
Experiencia brutal per fer amb amics o familia! Tracte inmillorable!
Lee mas
Espectacular . Todo perfecto tanto los buggys como la Atención , super familiar y cercanos. Experiencia inolvidable y muy recomendable .
Lee mas
Increíble, 2h y 30 min de ruta pasando por lugares super bonitos y caminos que solo con buggy se pueden acceder. Lo recomiendo 100%
Lee mas
Dia genial d' iniciació amb els buggy, recorregut molt variat amb zones per anar àgil i zones de conducció tècnica, buggys amb una resposta brutal. Jordi i Eva super amables i amb explicacions de tots tipus. Tornarem a repetir. Gràcies
Lee mas
Rebeche Marion
2022-01-07
Merci beaucoup pour cette superbe expérience ! Très bon moment, des paysages ravissants et un accueil parfait ! Nous le recommandons à tout le monde et nous reviendrons !
Lee mas
Oriana Del Rosario
2021-12-31
Ha sido una experiencia inolvidable!! No sólo he disfrutado del paseo en buggy, sino que la ruta y las vistas que acompañan todo el camino son excepcionales!!. Sin duda los recomiendo 100%!
Lee mas
josefina casanellas marsal
2021-12-28
Ha sigut una gran experiència, el buggy és molt segur, et dona confiança i valentia per passar per camins que mai t'haguessis imaginat. Sentir-te en mig de la inmensitat de la natura tan viva i autèntica...és fantàstic!! ganes de tornar-hi!! 😊💜
Lee mas
Una experiencia única si te gusta el mundo del motor y el offroad, el track está genial y el trato fenomenal, muy recomendable.
Lee mas
Tracte i diversió inmillorable! Tornarem!
Lee mas
BUGGY ROUTES IN THE PYRENEES
As an adventure travel agency we offer our clients the option of going with their own  vehicle or renting one of our Polaris RZR 900 buggies.  
Buggy route to the Catalan Pyrenees  
DAY 1: Castellfollit del Boix – Solsona – St. Ponts – St. Llorenç de Murunys – Coll de Jou – Pla de Bacies – Canalda – Lladurs. Night in Solsona.
DAY 2: Alinyà – St. Serní de Llanera – Pinós – St. Pere Sallavinera – Castellfollit del Boix.
Buggy route to Andorra
DAY 1: Castellfollit del Boix – Cambrils – Alinyá – Organyá. Night in Gramona.
DAY 2: Port del Cantó –  Pic d'Orri (2.500m) – St. Joan de l'Hern – Hermita de sta. Magdalena. Night in Gramona.
DAY 3: Osera – Alinyá – Oliana – St. Serní de Llanera – Pinós – St. Pere – Sallavinera – Castellfollit del Boix.
Price to consult